My equestrian path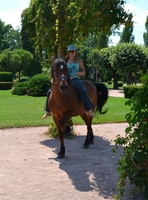 My equestrian path is quite unusual although it begins as for many riders: a pony ride in a park, a discovery session in a pony club with a summer camp and an innate love for all hairy creatures!
In summer, I went to a pony club that will remain, until today, my model. The headmistress loved her animals so much; she was able to recover wounded, exhausted, so-called "damned" equids, who had been mistreated, beaten, etc. Activities we practiced were very varied: classic riding, games, cross country, swimming in the river (our ponies were really swimming!), Beauty contests, city parades, etc. Unfortunately, one day this heavenly club closed for reasons I do not know.
I then ride a long time in a city club, where horses went from the box to manege without seeing the day light. Boxes were facing each other and did not communicate with each other, few of them had a small skylight on the outside ... Moreover, I never liked the competition: intensive practice of gymnastics had disgusted me, and riding competitions cost is exorbitant. As a result, I mounted horses that no one wanted, who did not participate in competitions (given their character) and that I ended up adoring...
Then, adolescence made me aware of what these "slave-horses" lived; I wanted to change clubs, but my mother did not have time to take me further. I preferred to stop than to "collaborate".
One day, I made a memorable gallop on the beach which allowed me to feel a pleasure really shared with my horse. That's how I understood that the place of horses is in nature...
Driving license in pocket, I chose a club where the horses lived in meadows and where teaching was very traditional. It gave me the desire to progress technically, to finally realize my dream of child: be a horse riding instructor!
This is how I started an A.T.E training (equestrian tourism guide), in a western riding school to quench my thirst for curiosity and to enrich my equestrian technique. Nevertheless, I was quickly disenchanted by my trainer methods which did not reflect his words! Although he was able to ride his horse without any bridle and make him perform hard exercises, he did not know how to control his anger. One day he has to face a horse on which the violence did not have the expected result. This horse was Kiss Me, which I bought at the end of my training and which taught me a lot about patience and perseverance!
After A.T.E. diploma, I passed the common core of sports instructor; I acquired some other horses and created an association. Then destiny made me move region and I spent the rest of my degree in V.A.E. (validation of acquired knowledge and experience). My first riding school, focused equestrian tourism and western, worked perfectly but I had lost the desire to continue. Why? Because I had striven to train my horses to be light, but despite my demand for my students, my beginners could not have a soft hand from start and no rider is immune to a hand fault! What's more, I could not stand sight of my horses, which seemed to be saying to me, "Why are you charging us that?"
Strange as it may seem, it was my blacksmith who gave me the solution. (Since then, my horse are barefoot, it has become obvious). When I told him about my problem, he said, "Why do not you just remove bits? ". As a western rider, he knew how to use the side-pull, the hackamore or the bosal. Know that in western, we begin the horses in side-pull, the time to learn them basic aids and then, the more advanced is the training, the more the bit becomes severe and the more aids are refined. In fact it's a bit like in classical riding - in theory.
So I removed bits and my horses have comforted me in my choice, they were wise, even more cooperative. And then, when your horse, which a few days earlier raised their heads to the ceiling clenched teeth, plunge their head into the noseband of the side-pull in the hands of the amazed rider ... you said: "I did the right thing choice!"
Ten years have passed and I was tired of hearing critics say that, bitless, we were not doing "real" riding, that we are only good at circus tricks, that our technique is limit to go for walks and TREC competition. I had a sudden desire to prove to the world wide that the bit is not like horseshoe, "a necessary evil". Want to challenge this challenge, show that a horse that has never known the bit can dress ... I needed a teacher, evidence, I found an instructor, a great old man from the old school. He taught me a lot, but as a good dressage judge, his formatting was going to lead us, without bit, into deadlock. With him I passed my classic seventh level, bitless, yes, it is possible. I worked a lot on my position and put horse on hand. The problem was this contact: when we are in constant search of kindness, it is, as always, horses that show us the way, provided we know how to observe, feel ... Several of my formerly light horses, had become heavy in hand, from side-pull some had gone to hackamore, what was wrong?
That summer, in this confused state, I stumble upon the world champion rider of pleasure video -it's a western discipline where the horse in a grazing pace must show the greatest docility in an attitude more than relaxed, it is an important criterion. And there, this rider, riding long reins, make flying foot changes, invisible transitions and all that without the horse leaves his position or shows sign of resistance or discomfort ... At this moment I thought: "but what did I miss?" Certainly, I do not appreciate the position" on the shoulders "of the horse because having since studied locomotion, I could only condemn this attitude, but did I have better now? A few days earlier I had booked for our vacation, with my husband, a training course in Andalusia ... Would we still dig a little deeper in fog of equestrian methods, or were we finally going to find a clearing? It was difficult to put back a bit, but it is in Spain that I discovered French riding! Why: because the whole world is under the aegis of the FEI (International Equestrian Federation) -and yes, do not forget that the most common goal is the competition! And the FEI had to choose reference texts in terms of settlement and it was German texts. As we are all condemned to eat American GMOs, we are all German riders! But in Spain it is bullfight corrida that is more important than competition; I will not go into a debate! You, facing a bull, would you entrust your life to a horse on the shoulders, heavy in the hand and who needs a spur every step to stay active? I think we will all opt for this lightness ideal, certainly a bit neck open but ready to pounce on the breath of the boot!
Back in France, it was necessary to warn my students: we change everything!! How were my horses going to react and adapt? For them, it was as simple as with children, adults were more suspicious. Then the horses proved to us that, once again, we had done well and taken the path of sensitivity and wisdom. We then found in France a professor (Patrice Franchet D'esperey from le cadre noir de Saumur) even more in our philosophy. Open to riding "bitless" and especially banishing the fixity of the neck, tensions, and in search of fluidity and balance.
Today, I am finally longeing my young horses, in neck extension without never resorting to side reins. The acupressure points allow me to obtain voluntary flexions of horse and to relax it. I do not forget what I learned in "ethology" and I refined a ground working technique for liberty where I never make run away horses. I am particularly attached to making my riders work on their position, a centered but active attitude, relaxed but disciplined. The beautiful position is of major importance because body weight is the most precious aid thanks to which rider can make horses do everything, but it is also the worst enemy of rider who does not control it and sends contradictory signals to his horse ... The rider who seeks lightness has also to act only when horse must change allure, movement, or balance, then " horse must be left to himself, aids must stop acting and remain silent."(Jean Claude Racinet.) I try to interest my riders in dressage, outdoors and equestrian art. I do not give up the challenge of raising to a highest level of dressage my little mare without her having ever known bit. Today she is walking in Spanish steps, piaffe, pirouette and begins the passage ... Others of my horse are in her footsteps and will not have suffered as much error like she do, because the more I advance, the more I refines equestrian technique suited to natural and artistic riding.